Cass Lake Fishing
Cass Lake Fishing & Lake Kitchi Experience
Bliss Point Resort is a family fishing resort & RV park located on Lake Kitchi in the middle of the Chippewa National Forest, Northern Minnesota. Lake Kitchi offers excellent fishing for Muskies, Walleyes, Northerns, and Bass.  The lake also features active fishing for Bluegills and Crappies.
Lake Kitchi is on the Cass Lake chain of lakes for a total of 9 lakes accessible by boat from our docks.  Our lodge offers incredible fishing access to; Lake Kitchi Lake, Cass Lake, Big Wolf Lake, Lake Andrusia, Pike Bay, Pug Hole, Rice Lake, Little Rice Lake, and Buck Lake.
Our Kitchi Lake Cabins feature three season porches with lake overviews, fully equipped kitchens with microwaves & refrigerators, Carpeted bedrooms, Satellite TV, High Speed Internet, Recliners, heat, showers, tankless water heaters, and even soft water! All cabins are air conditioned! 
Our lakeside Cabins are nicely spaced, giving you additional privacy and comfort that larger resorts can't offer.  Give us a call today to book your next fishing adventure and family vacation with Bliss Point Resorts.  We're family owned and operated which adds a personalized touch to the way we provide our family vacations resort services.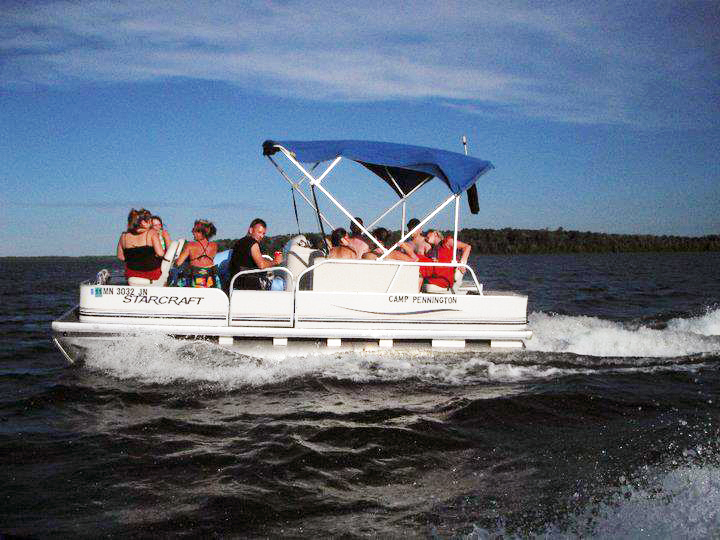 Boat Rentals
| Type | Base Rate | Extended Rate |
| --- | --- | --- |
| Paddle Boats & Kayaks | Free! | Free! |
| Fishing Pontoon * | $50 / 4 hours | $100 Daily | $400 Weekly |
| Deluxe Fishing Boat * | $75 Daily | $300 Weekly |
| 22′ Weeres Cruising Pontoon * | $175 Daily | $600 Weekly |
* Gas and oil are extra.